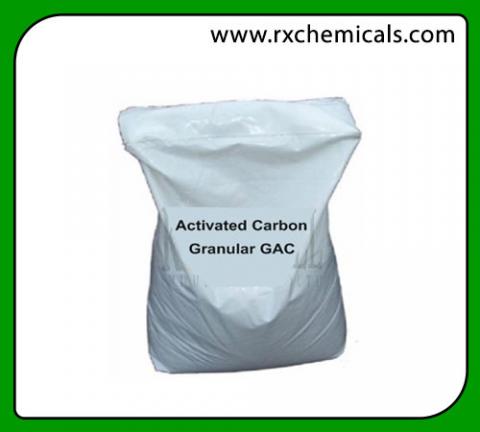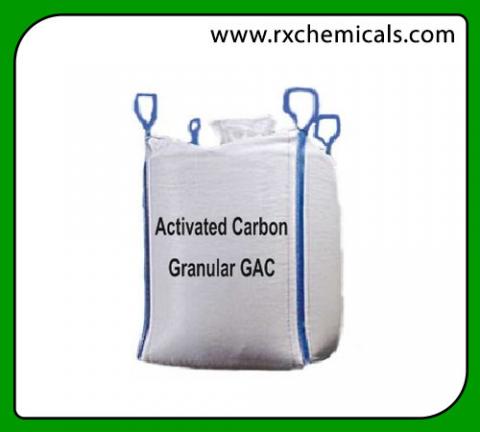 Activated Carbon Granular GAC
Product Delivery Locations:
Navi Mumbai, Vashi, Turbha, Rabale, Pawna, Nerul, Taloja, Nashik, Pune, Nagpur, MIDC, Vapi
... More locations >>
Granular Activated Carbon
Product Description:
Granular Activated Carbon manufacturer and supplier
Granular Activated Carbon has a relatively larger particle size compared to powdered Activated Carbon and consequently, presents a smaller external surface. Diffusion of the adsorbate is thus an important factor. These carbons are therefore preferred for all absorption of gases and vapors as their rate of diffusion are faster. Granulated carbons are used for water treatment, deodorization and separation of components of flow system and is also used in rapid mix basins. GAC can be either in granular or extruded form.
Product Application:
Activated carbon is useful in drinking water treatment because it acts as an adsorbent , and can effectively remove particles and  organics from water. These organics are of great concern in water treatment because they react with many disinfectants, especially chlorine.

 
The use of granular Activated Carbon in wastewater treatment systems is a proven process for removal of organic compounds. As a tertiary treatment method, carbon adsorption and regeneration have been used to process domestic wastewaters contaminated with industrial wastes of organic origin as well as biologically treated waste waters. Activated Carbon, when contacted with water containing organic material, will remove these compounds selectively by a combination of adsorption of the less polar molecules, filtration of the larger particles, and partial deposition of colloidal material on the exterior surface. The quantity of Activated Carbon required will depend upon the degree of contamination.
Product Procedure:
An amorphous from of carbon characterized by high adsorptivity for many gases, vapors, and collodial solids.
Used for water and air purification, solvent recovery, waste treatment, removal of sulfur oxide from stack gases and "clean'' rooms as deodorant, and for air conditioning.
Product Technical Specification:
Physical

Appearance: Dark grey/black powder
Specific Gravity: .22-.32
Pour Point: 2150ºC
Flash Point: Not flammable

Chemical

Type: Charcoal
Solubility: Negligible (water, oil)
pH: 4.0-6.0
Microtox: Not applicable
Product pack size:
25, 50 Kg and Jumbo Bag stockist in Navi Mumbai, Gandhidham, Ennore, Chennai, Visakhapatnam, Kolkata, Fujairah, Dubai.
Activated Carbon is a porous material that removes organic compounds, pollutants, contaminants and other impurities from liquids, gases, chemicals, metals, etc. Our 
diversed
 Product Portfolio ranges from Acid Washed Grade Activated Carbon, Unwashed Grade Activated Carbon, Granular Activated Carbon 
upto
 Powdered Grades of Activated Carbon. In addition to our vivid range of products, we also provide a varied choice in the manufacturing base of Activated Carbon. viz. Coconut Shell Based, 
Wood Based
 and Coal Based Activated Carbons.
Activated Carbon is commonly used to adsorb natural organic compounds, taste and odour compounds, and synthetic organic chemicals in drinking water treatment. Adsorption is both physical as well as chemical process of accumulating a substance at the interface between liquid and solids phases. Activated Carbon is an effective adsorbent owing to its high porosity and availability of a larger surface area for better and efficient contaminant adsorption. Activated Carbon is available as Powdered Activated Carbon (PAC) and Granular Activated Carbon (GAC).
Activated Carbon used in the field of Edible Oil, Dyes, Fertilizer, Pharmaceutical, Oil Refineries etc.   We are exporter of activated carbon globally to countries like UK ,USA, Canada, UAE,  Brazil, Chile, Dubai,  Argentina  Australia Austria  Bahrain Bangladesh  Belgium  Brazil   Czech Republic Denmark Finland France Germany  Iran Iraq Ireland Japan-South Korea  Kuwait  Mexico  Netherlands New Zealand Norway Panama Portugal Qatar  Russia Saudi  Singapore  South Africa  Spain  Sweden Switzerland Turkey   Yemen  Zimbabwe etc.
In India and UAE we have Sales Representatives in the following cities -
Ennore - Chennai ,  Surat , Vishakapatnam (Vizag), Navi Mumbai , Kolkata , Kandla Gandhidham - INDIA
Fujairha - UAE