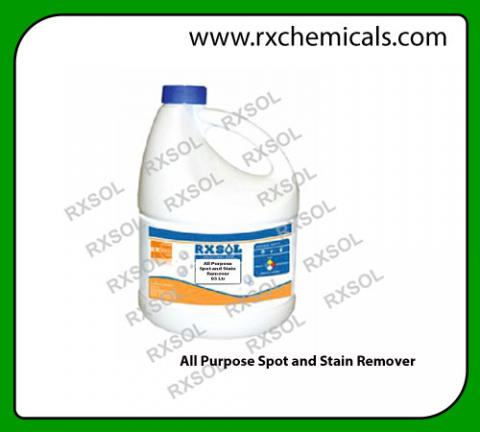 All Purpose Spot and Stain Remover
Product Delivery Locations:
Navi Mumbai, Vashi, Turbha, Rabale, Pawna, Nerul, Taloja, Nashik, Pune, Nagpur, MIDC, Vapi
... More locations >>
RXSOL spot remover effectively removes most protein based spots and spills
Product Description:
RXSOL spot remover effectively removes most protein based spots and spills. Spotter is an environmentally friendly, water based, all-purpose spotting solution.
Product Application:
RXSOL Spotter safely and effectively remove all type of spots, spills, and stains from carpets and fabrics. 
Product Procedure:
RXSOL Spotter will effectively treat and remove almost all common household spills and stains. Perky Spotter is non-toxic, non-flammable, and uses environmentally green ingredients. it will provide professional results against most foods, hot and cold drinks, tar, animal accidents, blood, grease, cosmetics and more.
Product Note:
Various grade of  Wet-side Spotting Agents
Wet-side pre-cleaning/spotting agents are used to clean water soluble stains from clothing. Wet-side agents can be subdivided into three different classes: neutral, alkaline, and acidic.
Neutral Wet-Side Agents – Neutral spotting agents include water and neutral synthetic detergents (which contain surfactants). These agents are used to remove water-soluble stains, food, beverages and water-soluble dyes.
Alkaline Wet-Side Agents – Alkaline spotting agents include lye, ammonia, potassium hydroxide, sodium hydroxide and so-called protein formula home detergents. Protein formula detergents contain digester enzymes - Amylase, Cellulase, Lipase and Protease. Digesters can be used to remove: starch, cellulose, fats and oils, and protein stains.
Acidic Wet-Side Agents – Acid agents include acetic acid, hydrofluoric acid, oxalic acid, glycolic acid and sulfuric acid. Tannin or plant-based stains can be removed with wet-side spotting agents also known as tannin formula agents. 
Product Technical Specification: