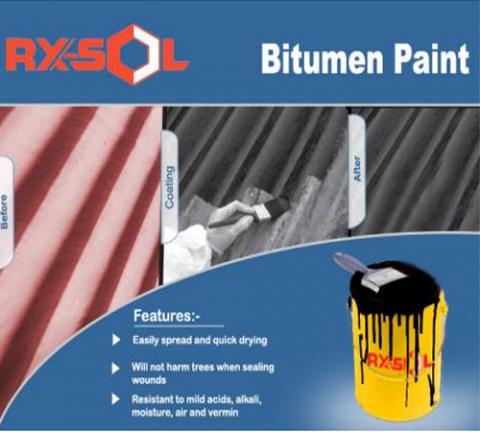 BITUMEN PAINT
A multi purpose bituminous product supplied in a paint consistency. Applicable as an adhesive primer, coating or for tree surgery. Good water, acid and alkali resistance. Suitable for protection of galvanised iron gutters, downpipes, metal railings and
Product Delivery Locations:
Navi Mumbai, Vashi, Turbha, Rabale, Pawna, Nerul, Taloja, Nashik, Pune, Nagpur, MIDC, Vapi
... More locations >>
Product Description:
A multi purpose bituminous product supplied in a paint consistency. Applicable as an adhesive primer, coating or for tree surgery.   Good water, acid and alkali resistance. Suitable for protection of galvanised iron gutters, downpipes, metal railings and metals exposed to weather, for priming dry concrete decks and as an adhesive to adhere Malthoid to metal.

Colour: Black
Dry Time: 6-8 Hours
Flashpoint: Flammable - Flash point 32oC min
Coverage:
As a paint/primer:
8m2/litre approx. on concrete
10m2/litre approx. on metal
As an adhesive for Malthoid:
5m2/litre approx.

Storage: May be stored in sealed containers under cover at normal temperatures for 12 months.
Product Application:
BITUMEN PAINT conforms to BS3416: Type 1 Class A for the waterproofing and weather protecting of
steelwork, concrete and potable water tanks. BITUMEN PAINT is used for the protection of ferrous and non-ferrous metals, concrete roofing, felt, fiber cement, corrugated iron, asphalt and wood, against water. Drying Time Approximately 6 hours depending on drying conditions. A solvent-borne, bituminous black paint. When dry it forms an odorless and taint-free bitumen film.
BITUMEN PAINT is supplied ready for use and should not require thinning. Apply at least two coats by brush or spray allowing each coat to dry before applying the next coat. Note: At very low service temperatures the coating will become less flexible, while at high temperatures it becomes soft and less resistant to degradation by the environment, and will ultimately flow.
Product Procedure:
All surfaces must be thoroughly clean, dry, sound and free from grease, oils, waxes and all loose materials. New galvanised iron must be allowed to weather for at least six months prior to application.

When used as a protective coating, use directly from the container with a brush, broom or spray (55kPa pressure in pot and 275kPa pressure at gun). When used as an adhesive for Malthoid, first loose lay Malthoid in position. Turn back the layer (approx. half way), paint the exposed metal with Bitumen Paint, then apply a coating of Bitumen Paint to the underside of the Malthoid. Place the sheet in position again and rub out to remove air pockets. Repeat this operation with the remainder of the sheet. To provide increased durability in external application, allow to dry for 14 days and apply a reflective paint, eg Tremco Alumicool, Tennis Court Paint etc.
Product Technical Specification:
Surfaces must be clean, dry and free from grease, oil, wax or any loose contaminating material.
 New metal surfaces should be allowed to weather for a minimum of three months prior to coating.
 Over rusted surfaces it is essential to remove loose rust or scale, wire brushing will do, prior to coating.
Appearance:

A thin black liquid, with

a strong solvent odor

Solids Content:

Above 35%

Dangerous Goods Class:

3

Poisons Schedule Number:

5
Product Note:
To adhere Ormonoid bituminous roofing to concrete and timber surfaces.
As a primer on concrete, fibro, metal and other porous surfaces prior to the application of bituminous products.
For protection of exterior metal surfaces such as guttering, downpipes, water tanks, troughs, trailers, car bodies and metal type roofing against corrosion.
 Sealing of tree wounds after pruning, to prevent disease or vermin attack.
Easily spread and quick drying.
Resistant to mild acids, alkali, moisture, air and vermin.
 Will not harm trees when sealing wounds.
Can be overpainted with Silvershield or an oil based paint for U.V. protection and better appearance