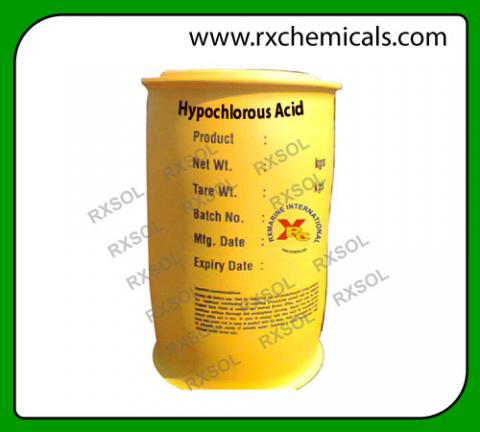 Hypo Phosphorous Acid 30 %
Product Delivery Locations:
Navi Mumbai, Vashi, Turbha, Rabale, Pawna, Nerul, Taloja, Nashik, Pune, Nagpur, MIDC, Vapi
... More locations >>
Product Description:
Hypophosphorous acid (H3PO2) is also named dihydridohydroxidooxidophosphorus, phosphinic acid, or more commonly "HPA".
Product Application:
Hypophosphorous Acid Uses
Bleaching Agent: Hypophosphorous Acid is used as a bleaching or decolorizing agent for plastics, synthetic fibers, and chemicals.
Color Stabilizer : HPA is used as a decolorizing agent and for color stabilization during the manufacture of chemicals and several plastics including: nylon fibers, polyamides, polyester fiber, polyacrilonitrile, alkyd rsins, epoxies, fatty acid esters, and glycerols.
Hypophosphite Salts :  Hypophosphorous Acid is used in the production of Hypophosphite Salts (i.e., Calcium, Magnesium, Manganese, Potassium, Iron, and Ammonium) which are in turn used in synthetic fibers as wetting dispersing, emulsifying, and anti-static agents.
Chemical Intermediate : Used in organic synthesis and organo phosphinic acid production.
Neturalizing Agent : Used as a moderately strong monobasic acid.
Catalyst :  Used as a polymerization and polycondensation catalyst.
Wetting Agent :  Used as a wetting, dispersing, or emulsifying agent in electroplating.
Reducing Agent : May be used for its strong but slow reducing action.
Antioxidant : Hypophosphorous Acid may be used as an antioxidant.
Pharmaceutical : HPA may be used as a stimulant in pharmaceuticals.
Product Procedure:
Hypophosphorous Acid (50% in water) extrapure AR
Cas No. 6303-21-5
HSN Code : Molecular Formula : H3PO2
Molecular Weight : 66.0
Product Technical Specification:
Analysis Report
| | | |
| --- | --- | --- |
| Test | Specification | Result |
| Appearance | Clear Liquid | Clear Liquid |
| Assay (H3PO2)  | 50.00 TO 52.00 % |  50.38 % |
| Chloride (Cl),ppm | 150 ppm MAXIMUM  | 20 ppm |
| Color, (APHA) |  Less than 30 APHA  |  Less than 30 APHA  |
| Iron (Fe), ppm  | 10 ppm MAXIMUM | 2 ppm |
| Orthophosphite % | 0.500 % MAXIMUM  |  0.400% |
| Specific Gravity | 1.201 to 1.265 G/CC | 1.210 |
Product alias:
<p> Acide phosphinique,Acido fosfinico, Dihydroxyphosphine, Hydroxyphosphine oxide, Hypophosphorous acid, Phosphine oxide, Phosphinic acid ,Phosphinsaure, Phosphonous acid</p>