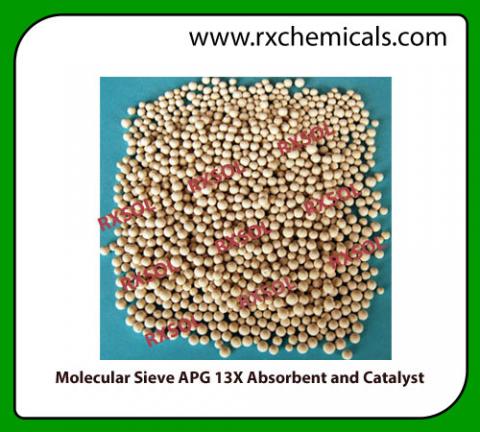 Molecular Sieve APG 13X Absorbent and Catalyst
Product Delivery Locations:
Navi Mumbai, Vashi, Turbha, Rabale, Pawna, Nerul, Taloja, Nashik, Pune, Nagpur, MIDC, Vapi
... More locations >>
Product Description:
The pore size of 13x molecular sieve(APG) is about 10 A. It can adsorb any molecular smaller than 10 A mainly used as catalyst carrier, coadsorbtion of CO2 and H2O and H2S as desiccant for medical and air compressor systems and can also be adjusted to fit other various applications.
Product Application:
Typical Application:
1. Purification and removal of H2O and CO2
2. Dehydration and desulfuration of nature gas, liquid petrol gas and liquid alkane
3. H2S and sulphide removal for hydrocarbons and natural gas.
4. Catalyst support
5. Deep drying of common gases
Product Note:
Formula:
Na2O*Al2O3*(2.8+/-0.2)SiO2*(6-7)H2O
Attention:
To avoid damp and pre-adsorption of organics before running or must to be reactivated.
Product Technical Specification:
| | | | | | |
| --- | --- | --- | --- | --- | --- |
| Item | Unit | | Type | | |
| Shape | | Pellet | Sphere | | |
| Diameter | mm | 1.5 - 1.7 | 3.0-3.3 | 1.7-2.5 | 3.0-5.0 |
| Size ratio up to grade | % | ≥98 | ≥98 | ≥96 | ≥96 |
| Bulk Density | g/ml | ≥0.54 | ≥0.54 | ≥0.60 | ≥0.60 |
| Wear Ratio | % | ≤0.20 | ≤0.25 | ≤0.20 | ≤0.20 |
| Crushing Strength | N | ≥30/cm | ≥45/cm | ≥10/p | ≥60/p |
| Static Adsorption | % | ≥25.0 | ≥25.0 | ≥25.0 | ≥25.0 |
| N - Hexane Adsorption | NL/g | ≥14 | ≥14 | ≥14 | ≥14 |
| Packing Water | % | ≤1.5 | ≤1.5 | ≤1.5 | ≤1.5 |