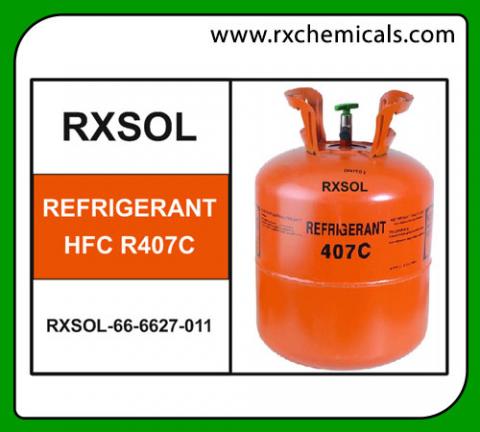 Refrigerants HFC R407C
Freon 407C is an HFC refrigerant replacement for R-22 in positive displacement systems such as new or existing residential and commercial air-conditioners and heat pumps.
Product alias:
Unicool R 407, Freon HFC refrigerants R407C
Product Delivery Locations:
Navi Mumbai, Vashi, Turbha, Rabale, Pawna, Nerul, Taloja, Nashik, Pune, Nagpur, MIDC, Vapi
... More locations >>
Product Description:
A synthetic HFC refrigerant which is harmless to the ozone layer. The gas is used in a variety of maritime refrigeration applications such as high and medium temperature applications (evaporating temperatures of -25 to +15° C).

R407C is a blend of HFC refrigerants designed to replace R22 in air conditioning applications. It's composition comprises: HFC-32 (23%), HFC-125 (25%), HFC-134a (52%).
Product Application:
Many manufactures designed equipment to suit this refrigerant. It is non toxic and non flammable meeting the highest A1/A1 classification.
ODP = 0
GWP = 1526
Oil = POE
Product Procedure:
Positive displacement equipment:
- new or existing residential and commercial air-conditioners
- new or existing residential and commercial heat pumps
Existing medium-temperature applications
Product Technical Specification:
| | | |
| --- | --- | --- |
| Contents | | 12.3 |
| Weight | : | 11 |
| Colour | : | Orange Brown |
| GWP | : | 1775 |
ODP = Ozone Depletion Potential
GWP = Global Warming Potential (IPCC Fourth Assessment Report - AR4)
Product Note:
Features

All refillable cylinders are inspected prior to refilling.
Residue refrigerant recovered to prevent environmental damage.
Content is 100% genuine refrigerant from approved producer.
Conforms to ARI-700 purity standard.
Suitable for new systems and retrofits.
Benefits

Worldwide compliance
Assured quality
Refillable cylinders