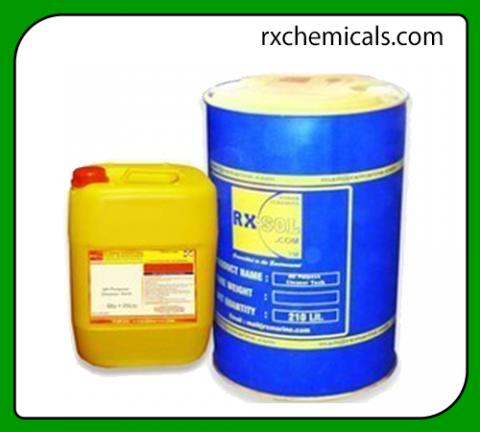 RXSOL 2100
Product Delivery Locations:
Navi Mumbai, Vashi, Turbha, Rabale, Pawna, Nerul, Taloja, Nashik, Pune, Nagpur, MIDC, Vapi
... More locations >>
unique liquid cleaner designed to clean Radiator and cooling water system of Contaminted ions, scale and oxide deposits while the engine is in operation.It removes oil, grease, dirt and loose metal oxide deposits. It can be used in all types of engines. I
Product Description:
Diesel Locomotive Cooling System Treatment
RXSOL 2100 is a unique liquid Corrosion Inhibitor for  Protects all metals in engine cooling systems from corrosive attack , extends equipment life and reduces maintenance. It can be used in all types of engines. It will reduces the time that your equipment is out of service for the cooling system.
Product Application:
Application : RXSOL 2100 functions as a protective film-forming corrosion inhibitor and scale-suppressant to keep engines clean and free from over-heating, reducing downtime and maintenance costs. RXSOL 2100 eliminates the need for softened make-up water supplies, thereby significantly decreasing total water treatment costs for diesel engine cooling systems. Its contains boron as a tracer element to simplify detection of lubricating oil contamination by engine cooling water.
Product Procedure:
Dose:  Properly clean the system with water and alkaline liquid , if necessary. Add 0 .15-1.5 % of RXSOL 2100 in system or recommended Nitrite level 1400 – 2500 ppm can be measured and controlled by any standard RXSOL test kit for Nitrite, Chloride test also helps to detect excess contamination to maintain accepted levels .
It may also be added directly to the engine cooling system as received.
Note : Initial dosage for an untreated system is 9 litres of RXSOL 2100 / 1000 litres of untreated distilled water.This will bring the treatment up to the minimum level of 1000 ppm nitrite. For best result and prolonged engine life add RXSOL 2100 every 2500 -6500 km. or 250 to 300 hours of running time. pH should be maintained between 8.3 and 10 by the treatment.
 
Product Note:
Future & Benefit :
Liquid product, easy to use.

By forming an oxide film on the metal surfaces electrolytic corrosion is prevented.

Effective against cavitation and erosion.

Compatible with hoses, gaskets and seals.

Simple control tests by RXSOL Test Kit and

Effective over a wide range of treatment levels

Does not adversely affect lubricating oils equipment life  reduces maintenance.

Keeps engines free from heat-absorbing sludge and mineral scale deposits prevents over-heating
Packing and Shipping : RXSOL 2100 is available in 10 ltrs, 20 Ltrs, 25Ltrs, 35 Ltrs, 50 ltrs, 210 Ltrs  and 1000 Ltrs IBC Tank.
Storage and handling : Store in cool and dry place. Keep Container tight closes when nor in used.
Handling :  Harmful: Causes eye burns and if swallowed. Contains alkali. Do not take internally. Avoid eye contact. In case of contact, immediately flush eyes with large amounts of water for at least 15 minutes. See a physician.
♦ If swallowed, do not induce vomiting. If conscious, give vinegar, lemon juice, or orange juice in an equal amount of water. Contact physician.
Product Technical Specification:
Physical Properties : 
| | | |
| --- | --- | --- |
| Physical State | : | Liquid |
| Appearance | : | Dark Red |
| Odor | : | Mild |
| Ph (100 %) | : | 11.2 - 12 Astm E-70 |
| Vapor Pressure | : | No Data Available. |
| Vapor Density | : | No Data Available |
| Specific Gravity | : | 1.17 - 1.2 (15.6 °C) |
| Density | : | No Data Available |
| Solubility In Water | : | Complete |
| Melting Point | : | No Data Available |
Product pack size:
10 Ltrs, 25 Ltrs, 210 Ltrs