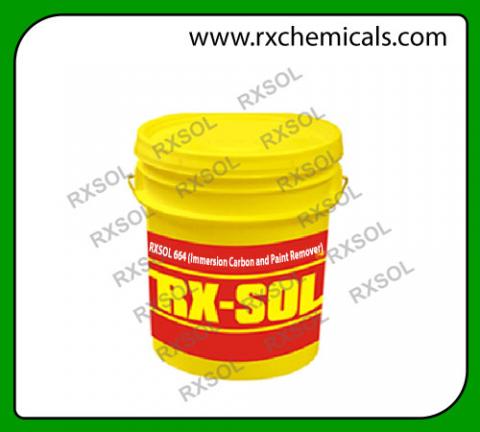 RXSOL 664 (Immersion Carbon and Paint Remover)
Product Delivery Locations:
Navi Mumbai, Vashi, Turbha, Rabale, Pawna, Nerul, Taloja, Nashik, Pune, Nagpur, MIDC, Vapi
... More locations >>
RXSOL 664 is a diphase, liquid product based on volatile aliphatic solvent and also containing tar-acids, corrosion inhibitors and alkaline soaps.
Product Description:
RXSOL 664 is a diphase, liquid product based on volatile aliphatic solvent and also containing tar-acids, corrosion inhibitors and alkaline soaps. It is used for the removal of hard carbon and paint from engineering components and equipment. RXSOL  664 is a good general purpose, immersion paint remover and will usually remove the following types of organic finishes – cellulose paints, air drying alkyds and acrylics, one pack polyurethanes and some epoxies depending on type and nature of the substrate.
It should be noted that this information on paint types is given as a guide only: the removability of any particular paint in RXSOL 664 – or any other paint remover should always be assessed by practical trial before any production scale use.
Product Application:
Most of the applications of RXSOL  664 are in overhaul processes e.g. the reclaiming of paint rejects especially when these are made of sensitive alloys such as zinc, aluminium or magnesium and a cold, non-corrosive and economical paint remover is required.
RXSOL 664 is supplied and operated as a diphase system. The lower, solvent phase is the active one: the upper aqueous phase is a seal which reduces evaporation of solvents from the lower phase and serves as a reservoir of corrosion inhibitor salts.
Product Procedure:
1. GENERAL :
RXSOL  664 is used as supplied at ambient temperatures. On no account must this product be heated as this will result in loss of the volatile solvent. Always use the complete contents of a container, in order to preserve the correct ratio of aqueous seal to active solvent layer. When first making up a bath of RXSOL 664 a note should be made of the depth of both the seal layer and the lower solvent layer. This makes subsequent control of the bath easier.
Components being processed in RXSOL 664 should be free of all oily and greasy contamination. Failure to ensure a grease and oil free condition of the work being processed will result in steadily increasing contamination of the bath and reduction in its life.
Oily and greasy components should be pretreated in a cold emulsifiable solvent cleaner, followed by a water rinse using an air/water gun and then immersion of the still wet components in RXSOL 664. Components must be completely immersed in the lower solvent layer with no intrusion into the upper seal layer. The seal has no paint or carbon removing ability.
2. RINSING
When treatment in RXSOL 664 is complete the work must be water rinsed. The rinsing equipment must produce sufficient pressure to remove detached paint and carbon from the surface along with residues of RXSOL 664.
NOTE The water rinse must be with cold water.
3. AFTER TREATMENT
After water rinsing, the work should be dried and suitably protected to prevent corrosion. A convenient means of drying that also provides some protection against corrosion is the use of a dewatering fluid .
Product Note:
Equipment Materials
RXSOL 664 should be contained in a mild steel tank constructed of 0.25 inch plate and free of rust and scale. The joints of the tank should be double welded. The bottom of the tank should be covered with a sludge tray – in the form of a removable wire tray or perforated screen to retain flakes of carbon and paint skins. Subsidiary tanks for the emulsifiable solvent preclean and dewatering fluid may also be constructed of mild steel.
Effects on materials :
RXSOL 664 is suitable for use on steel, zinc, aluminium and magnesium.
RXSOL 664 will degrade the majority of plastics and rubbers.

Safety Guidance
Before operating the process described it is important that this complete document, together with any relevant Safety Data sheets, be read and understood.
General Information
Rx Marine International supplies a wide range of chemical products and associated equipment for cleaning, sanitising, descaling, paint and carbon removal, metal protection and non-destructive testing. Sales Executives are available to advise on specific problems and applications.
Labour and Environmental Protection
All local and national regulations on the transport, storage, use and waste treatment of chemicals in concentrated or diluted form and as working solutions must be obeyed. Further specific information on the products can be found in the EC Safety Data Sheets supplied. The user should also pay strict attention to information and hazard symbols shown on product labels.
Waste Disposal
All waste waters must be treated in accordance with national legislation and local regulations prior to discharge to the sewer.
Product Technical Specification:
Appearance: Two-phase liquid:
Lower layer: Dark brown.
Upper layer: Yellow.
Density: Lower layer: 1.170 to 1.180 g/ml at 20 C.
pH: Lower layer: 10.9 to 11.1
Flash Point: None.
These are typical values only and do not constitute a specification
Product alias:
<p> Indrox 664, ARDROX 664, ORION 513</p>